Back Pain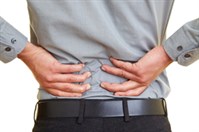 Back pain affects almost everyone at some time, causing restricted movement and untold misery, stress and discomfort. Experts estimate that as many as 80% of the population will experience a back problem at some time in their lives. It also causes millions of people to take valuable time off work, costing companies enormous sums in sick pay and lost production. In fact, 31 million Americans experience low-back pain at any given moment.
The back is a complicated structure of bones, joints, ligaments and muscles. You can sprain ligaments, strain muscles, rupture discs, and irritate joints, all of which can lead to back pain. While sports injuries or accidents can cause back pain, sometimes the simplest of movements—for example, picking up a pencil from the floor— can have painful results. In addition, arthritis , poor posture, obesity, and psychological stress can cause or complicate back pain. Back pain can also directly result from disease of the internal organs, such as kidney stones, kidney infections, blood clots, or bone loss . We will go through a detailed exam to determine if your condition can be successfully treated with chiropractic care and will refer you to the appropriate doctor if chiropractic care is not a viable option for your condition.

Common Causes of Back Pain
How Chiropractic Can Help
Evidence Supporting Chiropractic Care for Back Pain
What causes back pain?
Poor lifting or incorrect carrying of heavy weights
Poor posture
Unsuitable seats or beds
Sports or other injury
Stress
Pregnancy
General 'wear and tear'
How We Can Help!

Back pain is one of the most common complaints treated by Chiropractors. Used primarily by Doctors of Chiropractic (DCs) for the last century, manipulation has been largely ignored by most others in the health care community until recently. Now, with today's growing emphasis on treatment and cost effectiveness , manipulation is receiving more widespread attention.
Chiropractic spinal manipulation is a safe and effective spinal pain treatment . It reduces pain, decreases medication usage, rapidly advances physical therapy, and requires very few passive forms of treatment, such as bed rest.
In fact, after an extensive study of all currently available care for low back problems, the Agency for Health Care Policy and Research—a federal government research organization—recommended that low back pain sufferers choose the most conservative care first. And it recommended spinal manipulation as the only safe and effective, drugless form of initial professional treatment for acute low back problems in adults.

If we identify that your back pain is due to an underlying condition that needs to be co-managed with your medical physician, we will make the appropriate referral.

Here at North Brunswick Chiropractic, we use a variety of unique treatment methods to effectively treat your condition. If you are experiencing back pain, stiffness, numbness, shooting pain, or any low back discomfort, consult North Brunswick Chiropractic for an evaluation.
Evidence Supporting Chiropractic Care for Back Pain

"Patients with chronic low-back pain treated by chiropractors showed greater improvement and satisfaction at one month than patients treated by family physicians. Satisfaction scores were higher for chiropractic patients. A higher proportion of chiropractic patients (56 percent vs. 13 percent) reported that their low-back pain was better or much better, whereas nearly one-third of medical patients reported their low-back pain was worse or much worse."
– Nyiendo et al (2000), Journal of Manipulative and Physiological Therapeutics
"Chiropractic patients were found to be more satisfied with their back care providers after four weeks of treatment than were medical patients. Results from observational studies suggested that back pain patients are more satisfied with chiropractic care than with medical care. Additionally, studies conclude that patients are more satisfied with chiropractic care than they were with physical therapy after six weeks."
-- Hertzman-Miller et al (2002), American Journal of Public Health